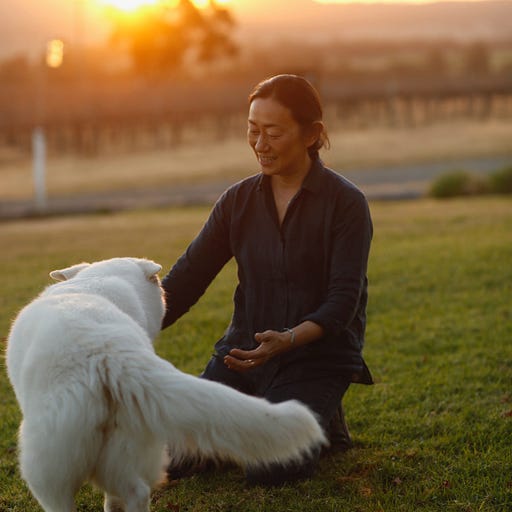 Apr 27 • 12M
The Forest for the Trees
A post-pandemic podcast about being out of office. Forever.
This week I am trying something a little different. Out of Office is about trying to make a life outside of the office and part of doing that is learning from others who have already taken this path. I wrote this piece about a winemaker from nearby my home town of Denman, NSW, who I first met back in 1998. I hope you take as much inspiration from her story as I have.
Overcoming internal resistance is often the hardest part about making a change. But what do you do when centuries of culture and tradition tell you it shouldn't be done? If you are Atsuko Radcliffe, you do it anyway.
"When I stand here now and look back, it seems as if there are two straight rails that have brought me here," says Atsuko who is standing at the cellar door of her Small Forest winery, on the slopes of Merton Vineyard, a short drive outside of the town of Denman. To the west, the land slopes gently down to the bottom of the valley where the Hunter River is making its languid way to the coast. Beyond the river the town of Denman itself, lying at the foot of the mountain that the setting sun has lit up in flares of golden orange light.
There are very few straight lines in nature, even fewer in interesting lives and none at all in Atsuko's journey from the bustle of Japan to rural Australia. Hers is a story of changing direction when worked stopped making sense, when it failed to align with her values. It is a story of being brave enough to make a change, brave enough to say yes to new opportunities.
After graduating from the University of Tokyo, which she didn't like ("too many boys"), Atsuko landed a job as a Quality Control Officer at Kyowa Kirin, the giant corporation of Kirin Beer fame. It was a plum job for a 21-year-old fresh out of University. But she wasn't happy.
"Because I studied Zymology I wanted to work in a different division. You don't get to choose though. I wanted to go to the Alcohol Research Group."
Microbes. Mould. Bacteria. Yeast. That's Atsuko's bag.
Atsuko lobbied her boss for a transfer to the Alcohol Research Group but she was continually knocked back. After the third year her boss told her she could finally transfer across, but only if she found someone to swap positions with her.
"When I heard this, I thought, ok, you only need a number, not a person. Then, that's it. I just lost all interest."
So she quit. In a country where the lifelong grind of the salary man is a cultural touch point, where centuries of culture and tradition celebrate unwavering dedication to the workplace, I ask how quitting a job after three years was perceived.
"Bad," she says her face serious, then pauses as if thinking about that time again. "Very bad".
That job didn't work out, but it did help her realise that she wanted to work in the alcohol industry, though wine was still not the focus. Her dream was always to make it in the Sake industry. But there was a problem. In Japan, for a woman, making a career in the male-dominated sake industry was an impossible dream.
"I didn't try," says Atsuko. "If it is the tradition, I wanted to keep it too. That's important, isn't? I love traditional things."
"Even if it excludes you?" I ask.
"That's fine. I can participate in different ways. I can drink," she says and laughs.
Soon after quitting her corporate job at Kirin, Atsuko received an offer to go and work at a winery. But it wasn't really a winery. It was a school for adults living with Down Syndrome and Severe Autism. The winery was a side project for the students, to give them independence. Atsuko didn't hesitate, she said yes.
"I learned a lot and enjoyed it a lot too. The winery was very different, it was an outsider, that looked overseas for inspiration, not inside Japan."
Of her time at the school-cum-winery, Atsuko says that the students taught her about more than wine. "I learnt winemaking, but more about life, how to live, how to enjoy. I can do something, you can do something, but they can do something, which I can't do. So each person is different. I am doing my part, and you are doing a different part and we all work together and it's just nice."
"How long were you there for?" I ask. "Three years." She pauses and grimaces. "Bad," she says.
Internal politics at the school made the decision to move on easy. After leaving, Atsuko, with some partners, set up a wine consulting business. One of her first clients was the town of Tsuno in Miyazaki Prefecture. The town council wanted to build their own winery from scratch, so they called Atsuko and her team.
As a young female winemaker, there were problems from the start.
"Miyazaki is a male dominant area. They didn't even look at me. They only looked at my boss. Then I thought, ok that's fine. That's their culture. That's fine. What I need to do is work hard and show what I can do." Then she adds, "It's not a very nice feeling, not a very nice feeling at all."
But there were other issues too. The town council wanted to make their wine from table grapes. "We said sorry, sorry mate," Atsuko tells me in her best Australian drawl. "This is not a good idea. You can't make good wine from table grapes. They were really, really upset. They didn't like us."
Eventually, the young winemaker, who her clients wouldn't even look at, talked the Council around. The first release of wine from the Tsuno Winery sold out in five days.
Atsuko's first vintage in Australia was in Mildura in 1996. She set off from Japan knowing nothing about Mildura, except what a friend had told her about watching out for giant lizards, and she didn't believe that. She recalls flying into Mildura in a prop plane. Red soil. Nothing growing. An airport that resembled a kindergarten. No baggage carousel.
"Is this really the airport?" she asked herself. A Winemaker was waiting for her in a small red ford, no air conditioning. A 30-minute drive, windows open, more red soil, more nothing. Then a goanna ran across the road. "It's true," she remembers thinking. "There are giant lizards."
On a visit to the Hunter Valley, Atsuko met with renowned Australian winemaker Philip Shaw, who at the time was the head winemaker for Rosemount Wines. Philip invited Atsuko to come and work with him.
"I think Rosemount had plans to sell more wine in Japan, so they thought it would be helpful to have a Japanese winemaker," Atsuko says.
The job was a step up in magnitude to anything else that Atsuko had done before. At her previous job the winery was crushing 600 tons pf grapes per year. Rosemount was crushing 15,000 tons. The barrel shed contained 30,000 barrels and it was Atsuko's job to look after the barrels and the precious liquid they held.
Atsuko describes what she felt transitioning from small Japanese consulting company to Australian corporate winery in one word. "Overwhelmed."
The plan was to work at Rosemount for a year then return to Japan. But at the end of the first year she decided to stay on. Her company in Japan sent four colleagues to Australia to convince Atsuko to return home, a professional intervention. But Atsuko wasn't to be swayed and ended up working at Rosemount for another six years.
"I decided to stay because Rosemount was such a great place to work. Working so hard. We had so much fun. Work hard, play hard. We played too bloody hard."
After a series of mergers and acquisitions, Atsuko found that the climate at Rosemount had changed. "I didn't enjoy getting up and going to work every day. The winemaking had always been the most important thing, but somewhere along the line that changed."
Rosemount no longer aligned to Atsuko's values, she was feeling burnt out. She wasn't happy. So she quit, took a year off to look after herself.
In 2008, Japanese tradition came knocking at Atsuko's door. Sake Brewers of Japan emailed her out of the blue, asking if Atsuko would travel to Japan to work the next Sake vintage in Northern Honshu.
"I thought 'Are you serious?' I couldn't believe it. If I wasn't here, if I wasn't making wine in Australia, I would never get this offer."
Atsuko knew that one vintage alone would not be enough to learn all that she wanted to learn about Sake. If she was going to do this, it would need to be at least two vintages and that would mean leaving Australia and her husband for eighteen months.
The time away from home and family was tough but she feels sorrier for the Japanese men she worked with at Sake Brewers.
"Those poor guys. They had this female, from Australia, asking questions all the time. Asking, asking. I wanted to learn everything. But in Japanese culture that is not the way. You are expected to look and follow."
I am fascinated with Atsuko's relationship with tradition and culture. She respects it and never meets it head on. And while she accepts the place that tradition has reserved for her as a Japanese woman, simultaneously, as Japan's first female winemaker, she is constantly challenging the status quo, not to destroy tradition but to strengthen it by carving out a place for herself, and for others who will come after her. Atsuko's is not an aggressive storming of the barricades, hers is a patient, persistent attack until tradition yields to her will.
It was this respect for tradition that brought Atsuko to where she is today, sitting atop Merton Vineyard overlooking the golden leafed vineyards of Shiraz, Verdelho and Chardonnay, with Muku, a beautiful white Swiss Shepherd that moves through the darkening evening like a ghostly apparition in her snow-white coat.
After returning from Japan in 2010 Atsuko took a job in the Upper Hunter Valley. Twelve months later, the owner of the winery told her that she would have to find a new job as he had sold out to the Spur Hill coal mining operation. It was a familiar story for many wineries in the Hunter Valley. Where once there was a thriving ecosystem of wine businesses, today only a handful remain, vineyards replaced by open cuts. Many blame coal mining. Atsuko is not one of them.
"Restructures and mergers and business rationalisations killed the industry in the area. Not mining. Industry did it. So sad. Great vineyards, great chardonnay everywhere and it's not here anymore."
There was only ever going to be one answer when the Chairman of Spur Hill asked Atsuko if she would like to continue to lease the winery on their newly acquired property. The chance to run her own business, to continue the stewardship of winemaking in Australia's most historic wine making region was one she couldn't turn down. Where others had fled in the face of coal mining Atsuko found a way to adapt, to preserve the tradition of winemaking in the Upper Hunter.
The mining company still owns the vineyards that unfurl down the side of the property and Atsuko purchases the grapes and works her magic on them in the leased winery. It is a very modern, symbiotic relationship from two industries normally seen to compete for land, water and resources.
Atsuko has no plans to leave here. Her winemaking philosophy is rooted in place. She could never become a hired gun, moving from winery to winery, from one vintage to the next.
"I need to eat here, drink here, be here. I need to live here and then all of that will come out in the wine I make."
It reminds me of a line by Nikos Kazantzakis in Zorba the Greek, "What a strange machine man is! You fill him with bread, wine, fish, and radishes, and out comes sighs, laughter, and dreams."
What comes from Atsuko are wines that are soft and clean with a creaminess that makes for easy drinking. Her dream is to stay small, make better wine and make more sales. "That's the hardest part," she says.
The last light of day has gone now and beyond the vineyards, down on the valley floor I can just make out the dark line of green willows and pines that denote the course of the Hunter River. I can't see the river itself, but I know it is there, making its inevitable journey to the coast, twisting and turning, finding a way around, over or through, until, like Atsuko, it comes to the place where it is meant to be.